Welcome to the Crime Lab! Here you will find information about cyber crimes and what happens to people who commit them.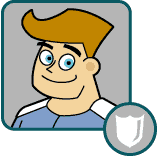 Officer Ward
Cyber Defender & Detention Center Security Officer

Officer Ward believes that most people who disrespect the privelages of Cyberspace are more ignorant than criminal, and that most cyber criminals can be rehabilitated into faithful cyber citizens through education about the dangers of delinquency in Cyberspace.

Working closely with Commander Omni and the Cyber Defense Academy, Officer Ward hopes to secure Cyberspace for everyone.
Favorite Quote:
It is not only for what we do that we are held responsible, but also for what we do not do
- John Baptiste Moliere
Favorite Food:
Cupcakes
Interests:
Coaching softball, fishing, catching cyber criminals