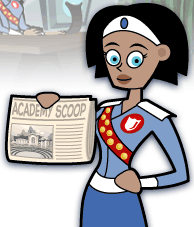 Halloween Ball
October 15, 2007 - On October 31, the Carnegie Cyber Academy will hold a Halloween Ball during afternoon classes. Dress up as your favorite spook or monster, and join us in the festivities. Those of you who follow proper chat room guidelines during the party will earn a special treat.
Fall Gold
October 8, 2007 - As the weather grows colder and the leaves turn to red and golden, I'd like to remind everyone to be safe. Bundle up for the weather, and keep your eyes open. Many of us are receiving more questionable email every day. Pay attention to the subject line and the sender. If it looks like spam, delete it immediately. Don't open attachments you aren't expecting. Help us keep our campus virus-free.

For more information on email safety, visit Trey at the Message Center in cyberspace.