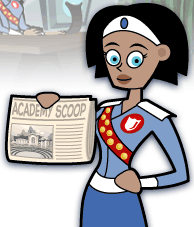 Happy Thanksgiving
November 21, 2007 - The Academy will be closed Nov. 21-25 for the Thanksgiving holiday. Anyone unable to go home for the break is welcome to celebrate Thanksgiving with the Academy faculty and staff in the Cafeteria.

Dr. Keen is bringing her famous Sweet Potato Pie and Officer Ward will be attempting to deep-fry a turkey so be sure to wear fire-proof clothing.

Happy Thanksgiving!
Exams
November 16, 2007 - Due to the recent Cyber Villain attack, mid-term exams have been pushed back to the week following Thanksgiving. Take some time during the holidays to review your notes.

Relevant sections of cyberspace will have extended hours November 26-27 so cadets can prepare. Have a great vacation, everyone!
Cyber Villain Attack
November 13, 2007 - We want to thank everyone for their patience today and apologize for the downtime. For those of you who weren't involved, the Cyber Villain M.C. Spammer launched a denial of service attack on our servers. I want to thank the cadets who assisted our teachers in repelling the attack. Carlo is fine and will be returning to school tomorrow.
Thanksgiving Vacation
November 5, 2007 - I want to remind everyone that Thanksgiving vacation starts November 21 and not November 17 like some of you believe. Cadets who choose to attend school through November 20 may receive a special reward. Classes resume November 26.