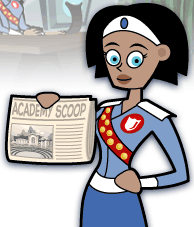 Thanksgiving Break
November 10, 2008 - The Academy will close at noon on Wednesday the 26th for Thanksgiving break so anyone with travel plans can get a head start. The Academy will be closed Nov. 27-30 for the holiday, but anyone unable to go home for the break is welcome to celebrate Thanksgiving with the Academy faculty and staff in the Cafeteria.
This year, Sparky and Jax will be joining us at the feast. They are creating a special treat for everyone with the help of Officer Ward, so expect something delicious and deep-fried and bring your appetites!
Happy Thanksgiving!
Election Day
November 4, 2008 - Just a brief reminder to the Academy staff and faculty that today is Election Day.
If you have not already done so, you may leave campus at any time during the day to go vote as long as it does not conflict with your class schedule.